Activities That Coordinate With The Book
After you've read Snail Mail you can share several fun facts and activities with children.
History Of Mail Delivery
Creating Homemade Cards and Sending To Pen Pals or Family
Maps
Snails (Hey! Why Not? 😀)
...and I'm sure many more things can be discussed.
History Of Mail Delivery and Today's Mail
History of The Pony Express
KidVision
___________________________________________________
Creating Greeting Cards And Envelopes / Pen Pals
Easy Pop-Up Birthday Card
by Paper Magic
13 Cute Envelopes And Cards For Kids To Make
by 5-Minute Crafts KIDS
Snail Mail Pen Pals
by Alex Brands
I'm going to suggest that this activity can be done between school classrooms with a student mail carrier "snail delivering" the mail to each classroom.
___________________________________________________
Maps
Early U.S. Mail Routes
U.S. Postal Service
___________________________________________________
Snails
by Apple Blossoms
Simple Origami Snail For Kids To Make
by Life Hack Art
___________________________________________________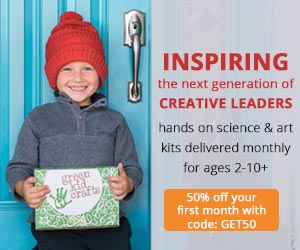 Green Kids Crafts STEAM (science, technology, engineering, arts, and math) subscriptions create opportunities to spark the imagination. They are geared for children 2 - 10+