"Nothing Says
Love

Like A Hand-Written Letter"



The first page of this book shows text displayed on a computer screen.
"A long, long time ago, but really not THAT long, before e-mail and texting, clicking and sending, mail was delivered in a much different way. A much slowwwwwwwwwer way. It was called Snail Mail."
The reader is then introduced to four snails who work delivering the mail: Dale Snail, Gail Snail, Colonel McHale Snail, and Umberto.
A girl makes a very special card that she seals with a kiss. She needs this handmade card to leave her house in Santa Monica, California and be delivered to a boy she loves in New York. That's a very very long journey, but the four determined snails are ready to meet the challenge.
They slither under the letter and carefully lift it up. The letter is slowly, SLOWWWLY inched toward its destiny.
The cute illustrations show the letter traveling through the desert, mountains, and more. Postcard-like pictures indicate the letter moving through Las Vegas, Yellowstone, Jackson Hole, and other parts of the country.
We see our special delivery snails going through rain, heat, blizzards, and ice. And finally...the note arrives in a big city and into the hands of a boy who is very impressed with the handmade card, with the girl's own written message. The tired snails realize the trip was worth it when they see the smile light up the boy's face.
The United States Snail Mail Office sends the snails a letter sealed with a shiny S.M. It is congratulating them for their good service.
But how will the special mail carrying snails make it back home? The same long journey?
My Thoughts
What Concerned Me: Such a small concern, but mail used to just be called mail, not snail mail. I believe that came about to differentiate it from email or even text messages. If you use this opportunity to talk to children about the history of mail, I have no concerns at all.
What I Liked Most: The illustrations and text work hand-in-hand to bring about a very cute book. It opens so many avenues for discussions that I can see this being a great addition to a classroom.
Author: Samantha Berger
Illustrator:
Julia Patton
Publisher:
Running Press Kids (May 2018)
4 STARS
Approx. Word Count: 745
Ages: (not listed by the publisher)
Pages: 32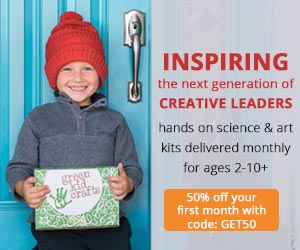 Green Kids Crafts STEAM (science, technology, engineering, arts, and math) subscriptions create opportunities to spark the imagination.
Their program has won many awards including Dr. Toy's Best Green Products, Academics' Choice Brain Toy Award, Red Tricycle's Award for Most Awesome Subscription Service and more.